Visiting Sendai where Tsunami attacked
On 5th Sep.2011, Our students and teachers received visa to Japan from Kolkata consulate, and then, we departed from Delhi via Patna on 6th.
On 7th, we arrived at Narita airport, and stayed at Tokyo shoshinkan (of Happy Science).  On 8th, we visited Oimachi HS branch, and visited head quater of HS international section, then we went to Nasu shoja in the evening.
On 9th, we visited Sendai HS branch, and East Sendai HS branch guided by Mr.Enda, after that, we visited the area had been affected by Tsunami in March 2011.
Tsunami washed whole town away and we found only part of housing foundation concrete remained.
People who are survivers told us that 4th floor of a elementary school there covered by Tsunami, but the students evacuated on the top of the school building survived, they pointing out another house and explained it was carried away by the flood, etc... they told us how huge damages they had by the Tsunami.
Then, we visited Nippon saiken kinenkan (Prayer hall of rebuilding Japan), proposed place for Sendai Shoshinkan, and had meetings with Sendai and East Sendai HS branch.  
Inspite of weekdays, many people gathered to see us, and we dedicated Indian traditional dance for them as a prayer, seeing it some burst into tears.
We prayed togehter at East Sendai branch where was heaby damages by Tsunami for peace of the souls suddenly left the earth.  We visited to cheer people in Sendai, but in fact, we got heartful welcome from them.  They gave us message letters for us.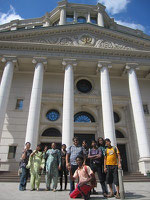 Cultural exchange program with students of HS Academy in Nasu
On 10th, throughout the morning, we saw singing contest and performance of cheer dance club at HS Academy in Nasu. 
And in the afternoon, we had an intercultural exchange program with the students of english club.  We denced together with Indian music, then, had a group discussion.  We used English to communicate eache other having trouble with the defference of pronounciation.  It was good experience for both students of Indian and Japan.
And we introduced onself in front of all in English.  We had discussion with some teachers and gurdians too.
One of our student who pray for Japan after Tsunami everyday became good friend with a student who had his house damaged by Tsunami.  
Attending Owashi Festival
On 11th, president Mr.Kijima gave us a chace to show Indian traditional dance of 10 minutes after cheer dance club's performance. After the dance, we visited classes displayed by science club and arts.  Next day, in the early morning, some students who became friends with our students came to see and give lotters for them.
After leaving Nasu, we visited Tokyo Shoshinkan, and then left tokyo to Shikoku.
Visiting Sacred place, Shikoku
As arriving at Shikoku, Mrs. Takeo came to Shikoku shoshinkan to see us with clothes for Awa dance, and she taught us Awa dance.
And the next day (on 13th), a staff of Shikoku Shoshinkan guided us to show cemetary hall and brought us Kawashima HS branch inspite of holiday.
When we visited Kawashima HS branch, few Japanese members also visited and we went to pirglimage there together.  We saw a big sun ring up in the sky and some bird shaped clowd. It was fantastic! We felt blessing.
We visited Master's birth place, visited Yoshino river HS branch, and Yoshino river.
And, we went to Cyugoku Shoshinkan by train and bus.  We did a prayer all together.  We prayed their future dream will come true with great efforts.  Some members came to see us.  We had fire work in the night.
Cyugoku Shoshinkan to Yufuin Shoshinkan
On 14th, we left Cyugoku Shoshinkan, and visited South Kumamoto HS branch, and had a party there.  Then, we arrived at Yufuin Shoshinkan.  We had a relaxing time there in great nature after busy moving on 15th.  And, Rev. Satake taught us about prayers.
On 16th, we moved to Osaka Shoshinkan.  On 17th, it was a 7th day, and there was a meeting of "living over 100 years" group, we gave a speach and showed the Indian traditional dance after Rev.Kuni's lecture there. I gave a speach on "the importance of education on faith".
Biwako Shoshinkan and Home Stay
In the evening on 17th, we had a party with members at Osaka Shoshinkan, and left there to Biwako Shoshinkan.
On 18th, throughout the morning, we had a speach and dance in a meeting of Success group teachers and care takers.  
In the afternoon, there was a ceremony of daikokutenhotsugan, we gave a speach. Some members came to see us to shake hands after the ceremony.
In the night on 18th, our students and teachers devided to make some groups to stay at homes of members in Yamashiro. They had precious experiences with Japanese families!
And on 19th, we went to Nara and visited Todaiji temple which has a big statue of Buddha. We appreciate all members to show us around whole day!
A student who would like to become DM(Distirict Majistrate) was surprised to see the infrastructure in Japan. A student who would like to become an engineer was grabed his attention by each structure of the buildings and machines. He selected white board as a souvenior. (He teach children as a tutor)  The dream of a student to become teacher had beeen changed to become a teacher of HS Academy.  One of them made his mind to study in Japan in the future.  The journy was vey successful and we learned lots of things.
We appreciate from the botom of our hearts to HS International section that invited us, and staffs and members of HS who took care of us all over Japan.